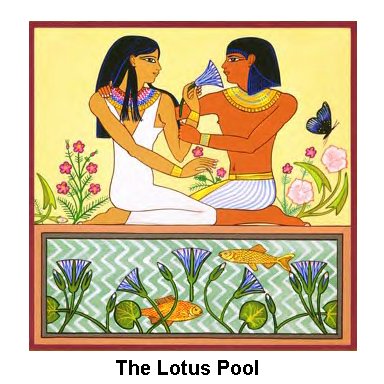 At last the older sister and her young man have a moment alone by the lotus pool in the garden. The pool is stocked with golden fish which swim among the lotus plants. They are telling each other what they did during their day and smelling the lovely flowers which the young man has bought to please the older sister.
Cover, 1, 2, 3, 4, 5, 6, 7, 8, 9,
If you liked this story and would like to see more of these paintings click the little scarab below!

ęCopyright 2004 - The Light-of-Egypt Limited. You should be aware that it is illegal to reproduce or distribute copyrighted material without the permission of the copyright owner. You may download, manipulate, reprint, reproduce and share these images for your own personal use only. The distribution of these images on any other website or network is strictly forbidden without our prior written permission. The images may not be copied, used or distributed for any commercial purpose.